Unique Lymphatic Technique for Respiratory Issues
Lauren Berry's techniques are the most powerful tools I've learned in my 40+ years of massage therapy practice
.  His Lymphatic technique creates immediate and dramatic results. In one session you can change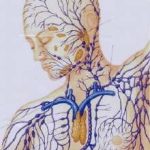 lives for the better.
I've taken many other classes in lymphatic work, but none of them are as effective in treating edema.  For years I have focused on using the Berry Method® for edema… instead of traditional lymphatic massage.
These Berry techniques have more practical applications than any other lymphatic massage method.  Besides addressing edema, they can restore a client's ability to breathe.  This literally saves lives… and improves the quality of life for anyone with respiratory issues.
This lymphatic technique can

be taught

to a family member to ease congestion around the heart and lungs. 
In a healthy person, there is a vacuum around the lungs. They have a healthy sounding voice and no trouble speaking or breathing.  When the vacuum has

been compromised

the voice becomes very wispy and breathy. Fluids that have seeped into the vacuum make it hard for the lungs to expand and take in air. 
We compress the cavity around the heart and lungs to remove the excess fluid and air bubbles. This restores the vacuum and allows the lungs to function

normally

. Not only does the patient feel better immediately… they can take a breath and talk

normally

. 
Here's what one of my students said after taking my class:
"As a home health professional, I
frequently
encounter complex lung and lymphedema situations involving dyspnea (difficulty breathing)
.
After learning Lauren's vacuum technique in Lynn's informative Lymphedema management class, I applied it to a woman with heart failure and an acute episode of shortness of breath
.
"Within three pumps she was "90%" improved and stunned at its simplicity and effectiveness

. She asked me to teach her family to perform it as it gives her such relief, which I

happily

did. I am so glad to have learned this simple non-invasive method that brings so much relief. I also use the Decongestion massage

regularly

and

highly

recommend… this great class. Thanks, Lynn!"
If you have an aging family member or your work involves senior care, you need to know this lymphatic technique. It's great for breathing problems and symptoms of chronic respiratory issues.
Clients with asthma, sinuses, or swelling have commented on their immediate improvement. If you're wanting to help a family member, please contact me and come in for an appointment. Bring them with you so I can teach you the technique. 
Or, attend an upcoming Lymphatic Technique for Home Use Workshop. We have options for you to attend as an individual, couple or family.
For professionals please join me for my in-depth CEU Lymphatic Massage workshop.  You can find a complete list of classes here.