Testimonials About Lynn Van Norman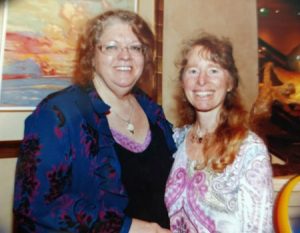 These are only a few of the many testimonials about Lynn for her therapeutic techniques and training classes.
Fixed what doctors couldn't
April 3, 2017, Ryan H.
"After years of suffering from intense upper back/neck pain that numerous doctors, x-rays, cat scans, and MRI's couldn't even diagnose, Lynn gave me symptom relief with just one session! She took time to fully understand my issue and along with the initial visit she gave me at home tips to stay symptom-free and offered follow-up care if I felt like I needed it. Lynn truly cares about making her clients feel their best. "
Debilitated knee
March 13, 2017, Randall Wells
"I went to Lynn for help with a debilitating knee injury that I had been suffering from for 6 months. Treatment by other health practitioners had not alleviated the problem.  With just 2 sessions with Lynn, my knees were noticeably better. After 4 sessions I was able to exercise moderately. And after of 7 sessions, I was able to exercise vigorously without any knee pain. Along the way Lynn also found some nagging shoulder problems, they were not debilitating but aggravating. I am so thankful I have found Lynn, and I would highly recommend her to anyone with structural problems such as what I was experiencing."
Very skilled…
February 26, 2016, Jason Evans
"Lynn has helped me with pains on multiple occasions. About 15 years ago was the first time. And recently she is helping me again. I have referred her to multiple friends and will continue to do so. She has so much knowledge and is very skilled. Thank you Lynn"
One of the teachers in my life…
August 28, 2014, Karen L Hoffman Sneider
"Lynn Van Norman is one of the teachers in my life that is with me every day I do body work and then some!!!"
Lifesaver…
August 2, 2014, Mary Stott Kuhl
"Lynn has been my angel and lifesaver for the past ten years. I lived with chronic pain my whole life. I never knew what it was like to be out of pain until I met and was a recipient of Lynn's work. She is truly amazing and passionate about what she does and the gift the universe has given her!"
On Ceasars Palace stationary:
Hi to the new neighbors, I want to introduce Lynn Van Norman. She has helped me and my pal Rip Taylor when nobody else could. Anyone should be happy to have her work with them.
                           Debbie Reynolds
                                    Molly, Tammy
Consistently Amazed Me…
I and my family had the good fortune to meet Lyn Van Norman about 40 years ago.
She
consistently
amazed me with her application of the "Berry Method," learned
directly
from Lauren Berry
.
Over the years, I have referred dozens of people to Lynn, with outstanding results.
Personally
, years ago, she came to my rescue. My back was in pain from injuries playing racquetball and too many hours bending over a pool table. Lynn has been able to "push me back into shape," time and again. Most
importantly
, she showed me stretching techniques and exercises to maintain my health.
Lynn is amazing, kind and attentive.
I had a three-wheel motorcycle accident. I sustained a third-degree separation to my collarbone. The surgeon performed an open reduction inserting 2 pins into the collarbone to bring the bone back together. The bone healed but I was left with a large numb area on my upper chest from nerve damage.  I had this numbness for a year and thought it would be permanent.I saw several doctors and they were unable to help me.  I had one session with Lynn and with her skills and expertise, she was able to restore this large numb area to its normal state. Lynn is a highly skilled professional. Her kindness and love for her patients go above and beyond any other healthcare professional.
I recommend her highly and wouldn't see anyone else. She cares and her follow-up over the years has meant the world to me.
Thank you,
Kim Mamian
5 STAR
Absolutely amazing. I had fainted while walking and hit the ground pretty hard. My whole body was pretty out of wack but mainly my neck and head. She did some amazing gentle manipulation and i felt pretty well put back together. I also had a previous knee injury, and could tell something wasn't sitting right, she seamlessly popped my meniscus back into place. 
Zoe Burns
After she took Lynn's Lymphatic class, Melanie from Eugene shared:

"As a home health professional, I frequently encounter complex lung and lymphedema situations involving dyspnea (difficulty breathing). After learning Lauren's vacuum technique in Lynn's informative Lymphedema management class, I applied it to a woman with heart failure and an acute episode of shortness of breath. Within three pumps she was "90%" improved and stunned at its simplicity and effectiveness. She asked me to teach her family to perform it as it gives her such relief which I happily did. I am so glad to have learned this simple non-invasive method that brings so much relief. I also use the Decongestion massage regularly and highly recommend… this great class. Thanks, Lynn!" 
Click to learn more about Lynn's therapies.
Click to learn more about Lynn's classes.
Conveniently located at 1178 Charnelton, Eugene, OR 97401   Call for appointments: 541-603-8031